Farmer's Omelette
Ham, mushrooms, roasted onions, organic tarragon and local Mozzarella. Served with whole wheat toast, butter and Stella's homemade marmalade.
Stella's Caesar
Organic lettuce, creamy garlic dressing, artisan croutons and fresh Parmesan and crispy bacon
Spaghetti Pesto
Spinach and mushrooms, along with a creamy Stella's pesto.
Ayote Squash and Carrots
Vegetable stock, cinnamon, lemongrass and coconut milk.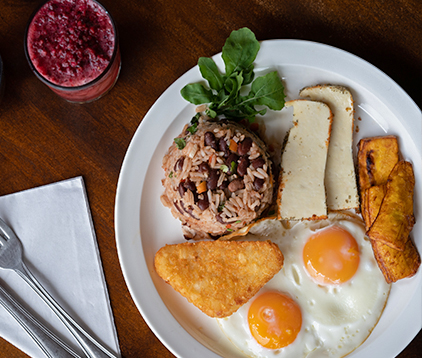 Passionfruit Cheesecake
Borona de chocolate oscuro, relleno de queso crema local y glaseando con semillas de maracuyá orgánicas.
Breakfasts, lunches and dinners
Address:
Opposite Casem Coop, Monteverde, Puntarenas, Costa Rica
Teléfono:
+506.  2645-5560